About Us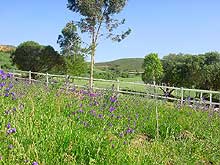 Gallop Hill Estate is an extraordinary new concept combining the rich heritage of Polo with a boutique wine estate.
The estate is situated near Paarl, in the renowned Western Cape wine producing region of South Africa, just 35 minutes drive from the centre of Cape Town.
The farm is bordered by the Paarl mountain reserve, protecting a myriad of indigenous fynbos species and offers panoramic views of the Cape Peninsula and famed Table Mountain.
For generations the farm has been one of the premiere horse breeders, and riding schools in the country, and has produced and trained some of the best Polo Ponies.
In the last few years, visionary proprietors Dijonne du Preez and Jim Deane have started developing the extremely fertile, never-before-used soil into a first class vineyard. They are both avid riders and are passionate about South African wine, art and Polo.
Capitalizing on the shared heritage of Polo and the Wine Making tradition, Gallop Hill is fast becoming a avant-garde trademark that embodies a unique synergistic blend of age old traditions.

The Proprietors:
Jim Deane (Left) and Dijonne du Preez (Right)